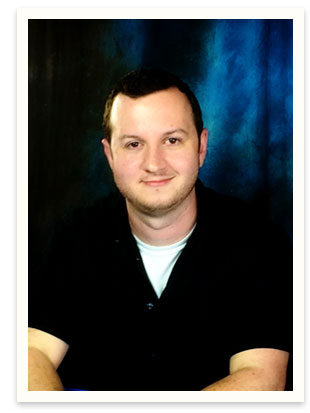 Anthony Sassano is a graduate from the Keiser University Lakeland Campus and earned his degree in Graphic Arts & Design.  He is currently employed at Tinsley Creative as a designer, also serves as the Art Director for Focus Magazine, and owns and operates Sassano Photography. Anthony frequently comes by campus to give seminars or serve as a guest speaker. He is also an active member of our advisory board.
Please tell us about your situation when you first came to Keiser University?
While in high school I heard someone speak from Keiser in one of my classes, so I decided to go there for college.
Please tell us about any instructors who may hold a special place in your educational history and how they helped to change your life.
Mr. Williams and Mrs. Percy hold a very special place in my educational history, and in my present life. They helped me to grow not only in my design skills, but also in communication and life skills.
Please tell us about any instances you may have experienced where a Keiser University staff member helped you succeed or overcome an obstacle.
Mr. Williams has helped me succeed in many areas, especially in the field of photography. This  has allowed me to expand my knowledge and skill set across all of the mediums I work in, from magazine covers to print ads to video and web.
How has Keiser University helped to change your life?  What is new in your life that would not be there if it were not for your educational experience at Keiser University?
If not for my education at Keiser I probably would not be where I am today, in both life and career. This allowed me to venture into an amazing and very creative field that I use to enhance all aspects of my life. It is because of going to Keiser and the instructors I had that I joined a club started by Mr. Williams, The Lakeland Shooters Photography Group.
Are you working in field? Tell us about your job search process.
Yes, I am working in my field. I am currently at Graphic Designer at Tinsley Creative in Lakeland, FL. Being a-part of a full-service marketing agency grants me the privilege of working alongside other creative minds while working on many different kinds of projects for various clients. It really allows me to explore my creativity.