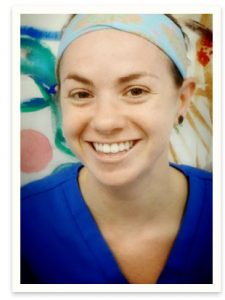 Hillary Scruggs is a graduate from the Fort Myers campus and earned her Associate of Science degree in Occupational Therapy in December, 2015. She is currently employed with DNA Comprehensive Therapy in Fort Myers.
Please tell us about your situation when you first came to Keiser University.
I was ready to work towards a career and Keiser provided the structured classes I needed to reach those goals.
Please tell us about any instructors who may hold a special place in your educational history and how they helped to change your life.
Evan Asay was the best teacher I've ever had. His willingness to help and understand your needs as a student has helped me become the successful student I am today. He is truly a professional and strives to help everyone succeed.
Please tell us about any instances you may have experienced where a Keiser University staff member helped you to succeed or overcome an obstacle.
Ann/John in Student Services were always there anytime I needed help organizing fundraisers for SOTA for which I'm truly grateful.
How has Keiser University helped change your life? What is new in your life that would not be there if it were not for your educational experience at Keiser University?
They gave me the opportunity and tools to succeed and aspirations to further my education.