Every Brick Has A Story! We Want To Hear Yours!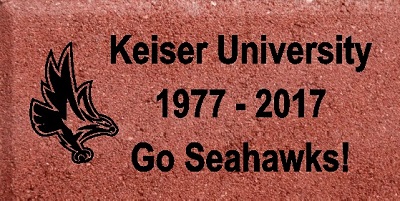 Support the Keiser University Alumni Association and leave a legacy by purchasing a personalized brick. You can personalize a brick with your name, message and clip art and it will be placed by the flag poles outside of the Student Life Center on our Flagship Campus. Bricks will be $50 for a limited time only! They are usually $100 so you're getting a 50% savings! All proceeds raised will help fund scholarships, alumni programs, and events.
Keiser University is a nonprofit 501 (c) (3) organization and considers your purchase of a brick to be a charitable contribution. In many cases these are tax deductible. Consistent with IRS requirements, we are advising donors that the amount of the contribution deductible for federal tax purposes is limited to the excess over the value of the gift received by the donor (i.e. shirts, pens, pins, etc…). Please consult your tax advisor for confirmation. Thank you for your generosity and support!